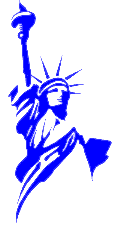 Chris Lawrence: Libertarian for Congress
We Win!
(At least a moral victory)
I'd like to thank everyone who voted for me! We've built on our record from 1996 and look forward to turning this into a Libertarian decade. Thanks again for your support for me and for the party's candidates in Mississippi and throughout the country.
First Congressional District of Mississippi
Welcome to my campaign web site! There will be more here soon, but here are some links to get you started.
Press Coverage
An article about my candidacy appeared in the 19 January 2000 issue of the Daily Mississippian, the University of Mississippi's daily campus newspaper.
Libertarian Links
Other Links
Contributions
Contributions can be sent to:
Lawrence for Congress, Inc.
P.O. Box 2262
Oxford, Mississippi 38655-7262
Your contribution will not be deposited until our campaign account has been established. Please note that according to FEC regulations, you may only contribute $1,000 ($2,000 for a joint contribution with your spouse) towards my "primary" campaign, and the same amount towards my "general election" campaign.
Your contribution of $1 or more entitles you to a free Lawrence for Congress bumper sticker, while supplies last!
Please include your name, address and telephone number. If you contribute over $200, you must also report the name of your employer and your occupation. This information will be disclosed to the FEC if the campaign receives more than $5000 in contributions.
Online contributions may be accepted shortly, once all of the campaign accounts are established and we're totally up-to-speed.
If you have any questions, email me and I'll try to explain this more clearly (the FEC guides are about as clear as mud).
Miscellany

These pages are paid for and Copyright © 2000 Lawrence for Congress, Inc.; feel free to quote freely from any page on this campaign web site, provided you attribute the source.
---
Chris Lawrence <chris@lordsutch.com> (21 Nov 2000 at 19:55 CST)